Solana Price Forms Bearish Patterns As NFT Sales Rebound – BanklessTimes
Last updated 30th Jan 2023
Solana NFTs had a strong January, helped by the strong performance of Bonk, y00ts, DeGods, and ABC collections. This recovery helped to push SOL price to a high of $26.84, the highest point since November 9 of 2022. Solana has jumped by over 200% from the lowest level this year.
Solana NFT sales rebound
Solana is one of the biggest players in the non-fungible token (NFT) industry. The platform has been used to launch some of the most popular NFT collections in the industry like y00ts, DeGods, ABC, and Bonkz. In January, Solana emerged as one of the top performers in the NFT industry.
According to CryptoSlam, the total Solana NFT sales in January surged to over $147.9 million. That was almost double the $75 million that it did in December last year. It was also the highest figure since September when sales jumped to $141 million. BONKz made over $6.4 million in sales in January.

Find out how to invest in Solana here.
A quick look at the data shows that the average sale rose to $90.64 in January from the previous $88.63. Other metrics made some improvements as well. The number of unique sellers rose to 79.4k in January from 77.9k in December. Most importantly, unique buyers jumped to 125k while the number of total transactions rose to 1.6 million.
However, Solana NFT sales are still significantly lower than its all-time high. In January 2022, the number of sales were over 333 million. This figure then dropped to a low of $59 million in August of the year.
NFTs were not the only bright spots for Solana's ecosystem. Its Decentralised Finance (DeFi) total value locked surged to $616 million during the month. That was a 45% increase in a 30-day period. A quick look at its ecosystem shows that most DeFi platforms like Marinade Finance, Lido, and Orca jumped.
Solana price prediction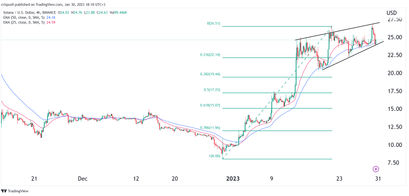 The 4H chart shows that Solana price made a spectacular recovery in January after it crashed hard during th